Topic:

Outdoor Accessories
Date Posted:
Thursday, October 15, 2015
Posted by:
Tanya Zanfa (Master Admin)
Source:
http://www.technicianonline.com/features/article_1199ffba-7228-11...
Outdoor innovation and designing the perfect hammock
Outdoor innovation and designing the perfect hammock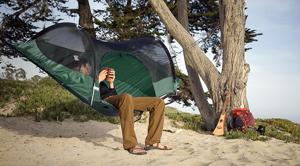 Maddy Bonnabeaux, Correspondent
The only thing more efficient than 1996 alumnus Wes Johnson is his camping hammock.
Campers have encapsulated themselves in neon cocoons for too long. It is no secret that people have suffered the confining effects of banana-shaped hammocks. The Blue Ridge Camping Hammock, however, stands on its own.
"When I first stumbled across the camping hammock product, there were other designs out there, but nothing like I wanted to create," Johnson said. "Once I finally had the product designed the way I wanted it, I pursued the patent process."
Johnson is the sole owner of Lawson Hammock and initially managed the company part-time. His eye-catching design is available in forest green.
"It comes with a patented arch pole and spreader bar system, which allows you to use it on the ground as a tent, as well as a hammock," Johnson said. "The system also keeps the bed of the hammock spread out and taut, so you're more comfortable."
The Blue Ridge Camping Hammock is meant for overnight camping, including bug netting and a rainfly. The inside is spacious; it's intended for one but can fit two people. Although the bug netting is attached, one can remove the arch poles and use it as an open hammock for lounging. Weighing about four pounds, the camping hammock is ready for backpacking and can be assembled in a couple of minutes.
Johnson always had a natural inclination toward the outdoors.
"Growing up, I spent a lot of time canoeing and fishing," Johnson said. "I enjoy hiking and camping as well, although I wish I could do it more often."
Johnson, an NC State alumnus and Raleigh native, originally worked in textiles.
"I loved the college experience," Johnson said. "Raleigh is also experiencing quite a bit of growth; culturally, there are always events, whether it's SPARKcon, Hopscotch or other festivals."
While finishing at NC State, he obtained his real estate license and eventually dove into the developmental aspect of business where he ultimately established the WRJ Building Company. Meanwhi le, he managed Lawson Hammock and executed his design.
Despite working in a variety of industries and platforms, Johnson said he particularly favors working for himself.
"I've worked in the corporate world multiple times and it has its advantages, but it's been exciting doing my own thing," Johnson said. "I'm satisfied that I made the decision to jump in 100 percent."
As an entrepreneur, Johnson remains busy responding to emails, conducting marketing efforts and contacting retailers and manufacturers. Johnson now uses office space in HQ Raleigh, a community working space for entrepreneurs.
The Blue Ridge Camping Hammock claims to be as comfortable as it is supportive. This is no different from the environment in which Johnson works. HQ Raleigh is home to more than 200 entrepreneurial members collaborating and exchanging ideas: a modern bar offers Lonerider Beer on tap and quaint little coffee shop, Jubala Coffee. Located in the warehouse district downtown, the inside is architecturally magnetizing, featuring a colossal sculpture of woven sticks. Johnson radiates enthusiasm.
"HQ Raleigh presents all the perks of a large company with its available resources and worker camaraderie," Johnson said.
Nestled upstairs is NC State's Entrepreneurship Clinic, part of the Poole College of Management.
Lewis Sheats, director of the Entrepreneurship Clinic and NC State senior lecturer, is an outdoor enthusiast. He and his wife each have a Blue Ridge Camping Hammock for hiking and camping on the Appalachian Trail.
"Its l ightweight quality and protection from the elements is a tremendous value added for us," Sheats said. "Another bonus is that one can still lay it on the ground and use it as a tent when there aren't many trees around in the area. It's a two-in-one product."
During the summer, students at the clinic made a video regarding how easy the camping hammock is to assemble, which functions as a marketing material for Johnson. According to Sheats, the clinic focuses on learning experiences for students and embedding them in the entrepreneurial ecosystem. Companies apply to the clinic with different problems or projects and the students go through a self-selection process where they choose what companies they want to work on. The majority of the students who use the clinic are from Poole, but the clinic is open to all majors.
"I'm always interested in talking to students," Sheats said. "If they're interested in entrepreneurship, I want to give them guidance so they can decide if it's the right path for them."
According to Sheats, last semester, half of the students launched their own company during the summer and half went to work for companies they completed projects with during the spring semester.
Current ly, Johnson is working on accessories for the hammock including an under quilt for cold weather and pillows. He is waiting for the spring when L.L. Bean will start carrying the Blue Ridge Camping Hammock.
"I have a list of products for the future," Johnson said. "Hammock-wise, a larger two-person hammock design — even though the current design can fit two, it'd be nice to have more space."
GET SOCIAL WITH US!
Follow OLP on our Social Media platforms to stay abreast of the latest happenings.
Follow Us on Facebook »
Follow Us on Twitter »
Circle Us on Google Plus »
Visit our Blog Feed »
See Us on Pinterest »
STAY CONNECTED!
Get the Latest News and Events from OLP delivered directly to your email inbox via our OLP eNewsletter.
We promise you'll love our content!