Topic:

Barbecues & Grills
Date Posted:
Tuesday, June 10, 2014
Posted by:
Tanya Zanfa (Master Admin)
Source:
http://www.prweb.com/releases/2014/05/prweb11853049.htm
Napoleon Grills Helps You Revitalize Your Backyard With A New Barbecue
Barrie, Ont. (PRWEB) May 22, 2014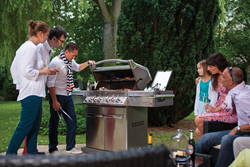 The long Canadian winter has finally passed, and people are starting to venture outside with an eye to enjoying the outdoors. Enhancing your backyard with a new barbecue can change your entire outdoor living space.
"Your outdoor living space needs a barbecue," says Stephen Schroeter, Senior Vice-President of Napoleon Grills. "A new grill will allow you to flex your culinary muscles, will revitalize the look of your yard and it will also expand your summertime menu and allow you to explore new grounds of entertaining."
There is a lot of summer to be enjoyed and a lot of time to be spent in the backyard. When considering a new grill purchase, there are certain factors to keep in mind, including:
Gas or charcoal? The first and most important decision is the fuel for your grill. It's a question between the convenience of gas versus the tradition and flavours of charcoal. The choice really comes down to a matter of personal preference. Of course, you could have both on hand to maximize your gourmet options! With a new gas grill you can do just that. They have a charcoal smoker tray that allows you to light and use charcoal with a Napoleon Gas Grill.
Special features. Some of the features that are available on today's modern grills greatly enhance your cooking experience, and allow you to do more experimentation with your food. A rotisserie with a rear infrared burner is a must, as well as smoking trays or tubes that will bring new flavours to your dishes. Other handy features are halogen lights that let you cook into the night, illuminated control knobs and interior cabinets and powered ignition for an easy start up every time.
Look for a cooking grid and sear plates that will resist corrosion and can withstand the high heat you need to properly sear your meats. Burners are key. Multiple burners allow flexibility for indirect cooking experiments. Most important, you want quality burners that are durable and will provide consistent performance.
"The right outdoor grilling system will complete your yard. It will provide superior performance and will look like a million bucks," says Schroeter. "The sleek, modern look of today's grills will be the crown jewel of your outdoor living space."
Napoleon has been recognized as one of Canada'a 50 Best Managed Companies, an annual distinction sponsored by CIBC World Markets, Deloitte, The National Post, Queen's School of Business and CEO Forum.
For more information, please visit Napoleon Grills. Follow Napoleon on Twitter @gourmetgrills and Like us onFacebook.
About the Napoleon Group of Companies:
It all began in 1976 when a small steel fabrication business launched by Wolfgang Schroeter started manufacturing steel railings in Barrie, Ontario, Canada. At that time, no one could imagine the incredible future that lay ahead for Wolf Steel Ltd. and eventually Napoleon Fireplaces and Napoleon Grills.
Since the first wood stove rolled off the production line more than 35 years ago, WolfSteel's commitment was to be distinctive and successful in everything they do. Napoleon's commitment to producing quality products combined with honest, reliable service has proven to be successful framework to ensuring the continued rapid growth of the company. Napoleon is an ISO9001 - 2008 registered company and now operates with 1.4 million square feet of manufacturing space and employs more than 1,000 associates.
Napoleon is North America's largest privately owned manufacturer of quality wood and gas fireplaces (inserts and stoves), gourmet gas and charcoal grills, outdoor living products and a complete line of Heating & Cooling equipment.
GET SOCIAL WITH US!
Follow OLP on our Social Media platforms to stay abreast of the latest happenings.
Follow Us on Facebook »
Follow Us on Twitter »
Circle Us on Google Plus »
Visit our Blog Feed »
See Us on Pinterest »
STAY CONNECTED!
Get the Latest News and Events from OLP delivered directly to your email inbox via our OLP eNewsletter.
We promise you'll love our content!